Zen V M.O.S.T. OEM Audio Output Interface for Audi Bentley Porsche Seat Skoda VW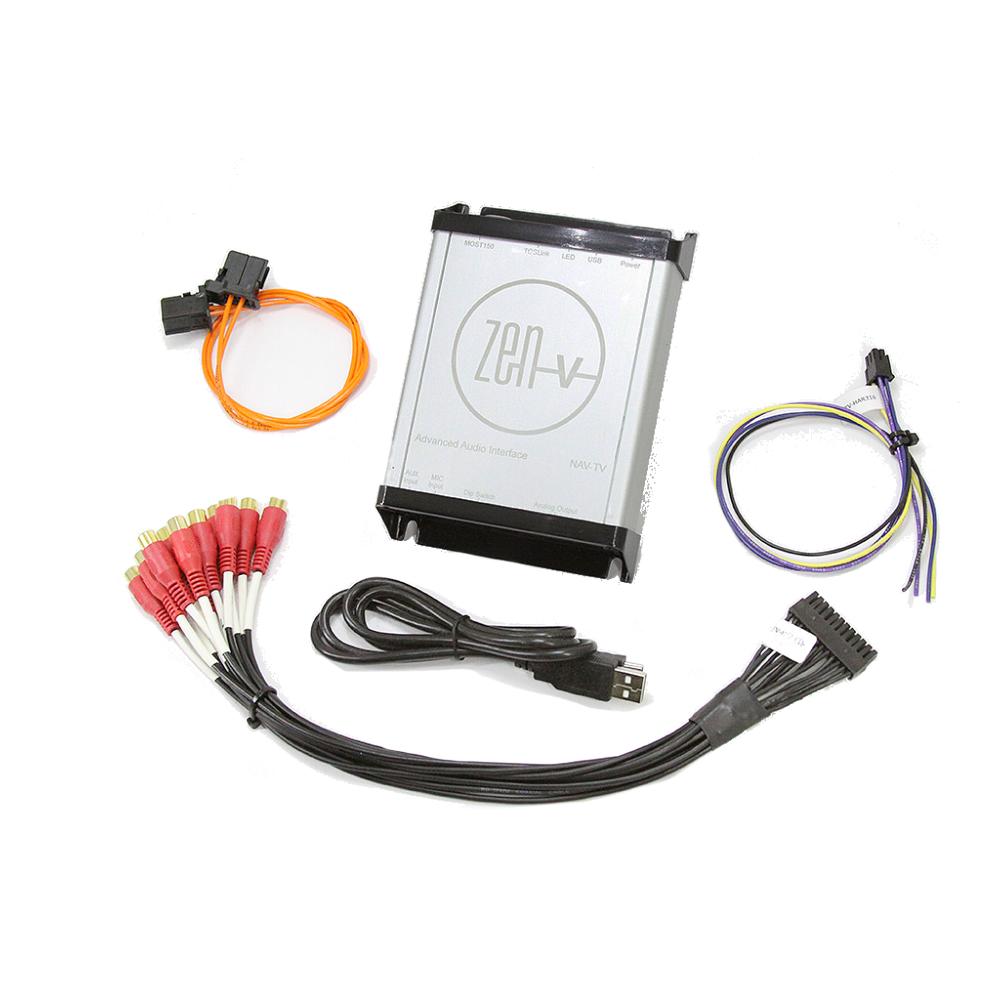 Zen V M.O.S.T. OEM Audio Output Interface for Audi Bentley Porsche Seat Skoda VW
M.O.S.T Audio Output Interface
Zen V
The ZEN-V allows the seamless addition of aftermarket amplifiers into compatible vehicles, delivering audiophile-quality sound without compromising the vehicle factory fit, finish or features.  
There are no reviews for this product.
Product Information
Utilizing the same processing power as NAV-TV's competition proven M650-GM, the ZEN-V  produces a completely flat audio output without any factory time delay or equalization, eliminating the need for summing devices, an audio correction DSP or the removal of the factory audio compensation microphones. 
The ZEN-V produces a 12 channel analog output with a S/N Ratio of 112dB. For vehicles with video playback capability, the ZEN-V supports 7.1 and 5.1 audio[2].
NOTE: the ZEN-V will replace the factory amplifier. This is an all-or-nothing solution. 
For use with 3rd party digital sound processors[3], the ZEN-V includes a variable TOSlink digital output which may be used simultaneously with the analog outputs, or by itself. The variable digital output allows for the system volume to be controlled via the factory radio and steering wheel controls without the need to access any 3rd party controller.
Specification
For ease of use, the ZEN-V is configurable through dip switch settings.  
User selectable features of the ZEN-V are:
Full scale audio or -12dB attenuation
Loudness on or off
Vehicles without a factory amplified system will require the additional ZEN-V-PRG programmer prior to the installation of the ZEN-V[4]. The ZEN-V-PRG is sold separately and comes with unlimited usage, allowing both programming and unprogramming in multiple vehicles. Alternatively, NAV-TV will provide programming instructions to enable the amplifier setting utilizing a VAG-COM or VAG-CAN PRO, free of charge. Vehicles with factory amplified systems do not require any programming. 
Compatible
Audi/A3    2015-2021    MIB, MIB HS, MIB2    
Audi/A4    2017-2021    MIB, MIB HS, MIB2    
Audi/A5    2017-2020   MIB, MIB HS, MIB2    
Audi/A6    2017-2018    MIB, MIB HS, MIB2    
Audi/A6    2019-2021    MIB2.5    
Audi/A7    2017-2018    MIB, MIB HS, MIB2    
Audi/A7    2019-2021    MIB2.5    
Audi/A8    2017-2018    MIB, MIB HS, MIB2    
Audi/A8    2019-2021    MIB2.5    
Audi/Q3    2015-2020   MIB, MIB HS, MIB2    
Audi/Q5    2018-2020   MIB, MIB HS, MIB2    
Audi/Q7    2017-2018    MIB, MIB HS, MIB2    
Audi/Q7    2019-2021    MIB2.5    
Audi/Q8    2019-2021    MIB2.5    
Audi/R8    2017-2021    MIB, MIB HS, MIB2    
Audi/S3    2015-2020   MIB, MIB HS, MIB2    
Audi/S4    2017-2020    MIB, MIB HS, MIB2    
Audi/S5    2017-2020    MIB, MIB HS, MIB2    
Audi/S6    2017-2018     MIB, MIB HS, MIB2    
Audi/S6    2019-2021     MIB2.5    
Audi/S7    2017-2018     MIB, MIB HS, MIB2    
Audi/S7    2019-2021    MIB2.5    
Audi/S8    2019-2021    MIB2.5    
Audi/TT    2016-2021    MIB, MIB HS, MIB2    
Bentley/Bentayga    2017-2020   Bentayga MIB II    
Bentley/Continental    2019-2020  Bentayga MIB II    
Porsche/911 Carrera    2017-2021   PCM4.0    
Porsche/Boxster    2017-2021   PCM4.0    
Porsche/Cayenne    2019-2021   PCM5.0    
Porsche/Cayman    2017-2020   PCM4.0    
Porsche/Macan    2017-2021   PCM4.0    
Porsche/Panamera    2017-2021   PCM4.1 (Panamera)    
Volkswagen/GTI    2017-2021    MIB, MIB2 with MOST plug    
Volkswagen/Golf VII    2017-2018    MIB, MIB2 with MOST plug
What's Included
ZEN-V Interface
Power Harness
MOST Fiber
RCA Harness
USB Cable
Leave a review