Zen A2B OEM Audio Output Interface for Ford with B&O or Revel Amplified Sync 3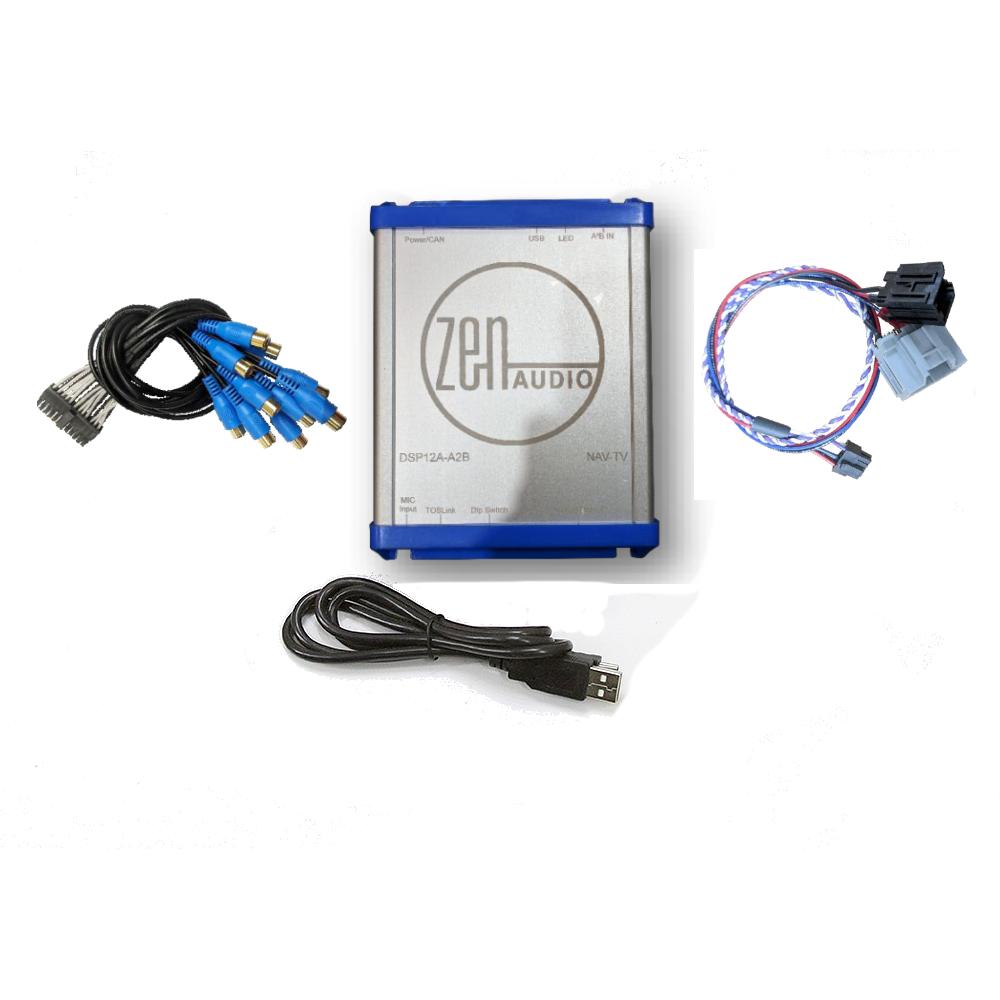 Zen A2B OEM Audio Output Interface for Ford with B&O or Revel Amplified Sync 3
Audio Output Interface
Zen A2B
The ZEN-AUDIO DSP12A-A2B processor seamlessly converts 2018+ Ford factory A²B® (Automotive Audio Bus) to 12-channel analog RCA and TOSLink output.
There are no reviews for this product.
Product Information
Adding aftermarket amplifiers to the OE B&O or Revel amplified SYNC3 system has never been so simple. This module integrates directly with the OEM A²B® & CAN bus to retain volume control, full fade and balance (analog only), treble, mid-range, bass control & Bluetooth voice calls with no external speaker (true OEM integration). 
A²B® is a registered trademark of Analog Devices Inc.
NOTE: this interface (rev 2R0 hardware) replaces KIT873: ZEN-A2B
Specification
Current HW version: -- 3r0 --
Current SW version: 4.0.11 (website updater only) 
Compatible SW (update) OS: Windows 7 (64 bit), 8, 10
Digital Input A2B Twisted Pair
Digital Outputs: TOSLink 
Digital Outputs supported: 24bit/48kHz
Frequency Response (digital): 18Hz – 24kHz
Analog Outputs: 12 channels (RCA) 
Output Voltage Peak: 6v
Output Voltage RMS: 2.1v
Analog Output Type: Single-Ended
S/N Ratio (analog):  114dB
Frequency Response (analog):  18Hz – 24kHz
THD+N @ -1dBFS -94dB
DAC 48kHz 32bit
DSP 32bit Floating Point
Delay (Time Alignment) Selectable
Current Consumption Stand-by Current <1 mA
Consumption Operational Operational Voltage 350 mA MAX
Amp Turn-On Output 7V – 20V DC Automatic
Amp Turn-On Voltage V-batt 
Amp Turn-On Current Limitation 500mA
Dimensions: 4"x5"x1 3/8"
 Weight: 10 oz
Country of Origin: USA
Compatible
Ford/Escape    2018-2021     SYNC 3 with B&O    with B&O or Revel amp only
Ford/Expedition    2018-2021    SYNC 3 with B&O    with B&O or Revel amp only
Ford/Explorer    2021-2021    SYNC 3 with B&O    with B&O or Revel amp only
Ford/F-150    2018-2018    SYNC 3 with B&O    with B&O or Revel amp only
Ford/F-150    2019-2021    SYNC 3 with B&O    with B&O or Revel amp only
Ford/Ranger    2019-2021    SYNC 3 with B&O    with B&O or Revel amp only
Ford/Raptor    2017-2021   SYNC 3 with B&O    with B&O or Revel amp only
What's Included
ZEN-A2B Interface
Power Harness
MOST Fiber
RCA Harness
USB Cable
Leave a review