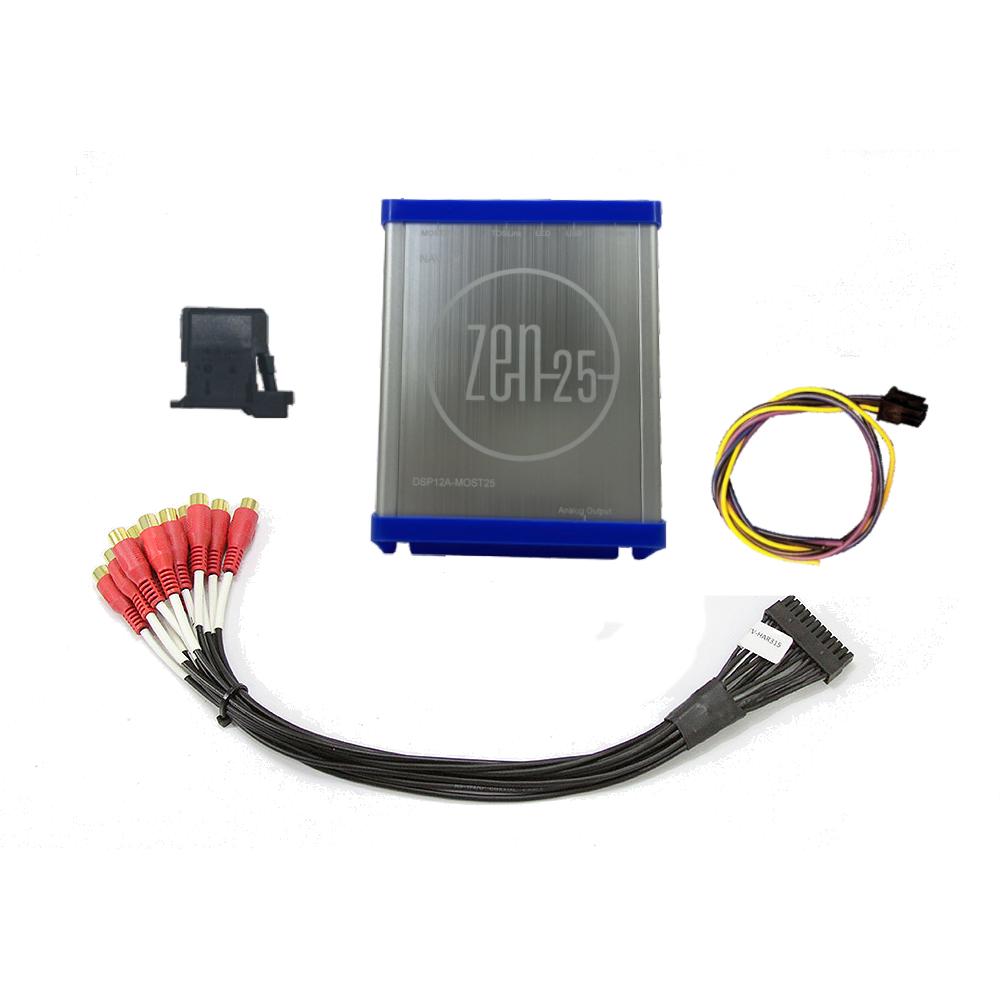 2 YEAR WARRANTY
Zen 25 M.O.S.T. OEM Audio Output Interface for BMW Factory Amplified Systems
Zen 25 M.O.S.T. OEM Audio Output Interface for BMW Factory Amplified Systems
M.O.S.T. Audio Output Interface
Zen 25
The ZEN-AUDIO ZEN-25 processor seamlessly converts 2004-2019 BMW M.O.S.T. 25 factory amplified infotainment systems to 12-channel analog RCA and TOSLink output.
There are no reviews for this product.
Product Information
Adding aftermarket amplifiers to the factory amplified BMW M.O.S.T. system has never been so simple. This module integrates directly with the M.O.S.T. bus to retain volume control, full fade (analog only), balance, treble, bass control, factory 7-band EQ & phone calls with no external speaker (true OEM integration). 
The interface comes standard with a user interface that allows 2 different time alignments selectable through the factory Logic 7 button, full independent control of phone and gong volumes, the ability to reassign audio, warning chimes or phone calls to any channel, and simultaneous use of the digital TOSlink and analog outputs. ZEN-25 includes a single stereo TOSlink output and 12 analog channel outputs, providing 17 volt peak-to-peak with a signal to noise ratio of 114dB. 
Specification
Compatible OS: Windows 7, 8, 10 (64bit), MAC OS 10.11 & up, Linux with current CDC-ECM driver
Input Digital Input
M.O.S.T. 25 Fiber Optic Output
Digital Output: TOSlink
Supported Digital Output: 24bit/44.1kHz
Analog Outputs: 12 Channels (RCA)
Output Voltage Peak-to-Peak: 17V
Output Voltage RMS: 6V
Analog Output Type: Single-Ended
S/N Ratio (Analog): 114dB
Frequency Response (Analog): 18Hz - 22.05kHz
THD+N@ -1dBFS: -94dB
DAC: 44.1kHz 32bit
DSP: 32bit Floating Point
Delay (Time Alignment): 2 time Alignments selected by Logic 7: on or o
Power Supply Current Consumption Standby:
<1 mA Current Consumption Operational:
350 mA MAX Operational Voltage:
7V -20V DC Amp Turn-On Output:
Automatic Amp Turn-On Voltage:
V-batt Amp Turn-On Current Limit: 500mA 
Dimensions: 4"x 5"x 1 3/8"
Weight: 10 oz
Country of Origin: USA
Compatible
2004-2019 CCC, CIC, NBT or NBT EVO and M.O.S.T. Fiber Optic Amplifier
BMW 1 Series 
BMW 2 Series 
BMW 3 Series 
BMW 4 Series 
BMW 5 Series 
BMW 6 Series 
BMW 7 Series 
BMW X1
BMW X3
BMW X4
BMW X5
BMW X6
BMW Z4
BMW i3
BMW i8
What's Included
ZEN-25 Interface
Power Harness
MOST Fiber
RCA Harness
Leave a review