Ram Mount RAP-274-1-UN7U X-Grip iPhone Smartphone EZ Mount Base MTB Bicycle Bike
RAM® X-Grip® Phone Mount with RAM® EZ-On/Off™ Bicycle Base
RAP-274-1-UN7U
Earn

0

reward points
17425
There are no reviews for this product.
Product Details
The RAP-274-1-UN7U consits of RAM® EZ-ON/OFF™ dual strap base and the popular spring-loaded RAM® X-Grip® phone holder, featuring an 'X' design that expands and contracts to provide a perfect fit for your device – even if it's in a case. Made of high-strength composite and stainless steel, the RAM® X-Grip® phone holder is compatible with a wide variety of RAM® double socket arms and mounting bases. This version of the RAM® X-Grip® fits phones ranging from 1.87" to 3.25" in width and keeps your device completely functional and accessible. For outdoor applications – like being used as a bicycle phone mount – the RAM® X-Grip® includes a device tether that is recommended for added security and peace of mind.
Spring-loaded 'X' design with rubber caps sports great holding power without hiding your phone; includes optional device tether for peace of mind during rugged use
RAM® X-Grip® is connected to the RAM® EZ-On/Off™ bicycle base, featuring zip ties for attachment to a variety of handlebar diameters
Made of stainless steel components and high-strength composite for durability and reliability in the most demanding environments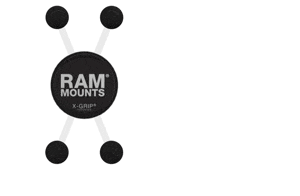 Specification
HOLDER DIMENSIONS Width Range: 1.875" - 3.25" Depth Range: .875" max
CLAMP RANGE .5" - 1.68" diameter
MATERIALS High strength composite Stainless steel
PACKAGING TYPE Poly Bag
WEIGHT 0.25 lbs.
Compatible
Apple

iPhone 6s
iPhone 7
iPhone 8
iPhone SE
iPhone X
iPhone Xs
iPhone Xr
iPhone 11
iPhone 11 Pro

Blackberry
Garmin

Approach G8
Edge 1030
Edge Explore 1000

Google

Pixel
Pixel XL
Pixel 2
Pixel 3
Pixel 3a
Pixel 4
Pixel 4 XL
Pixel 4a

HTC
Huawei
LG

Aristo
Aristo 2
Exalt LTE
G5
G5 Silver
G6
G6+
G7 ThinQ
G8 ThinQ
Grace LTE
K20
K20 Plus
K20 V
K3
K3 2017
K8 2017
Phoenix 3
Q6
Rebel 2 LTE
Rebel 3 LTE
Risio 2
Tribute Dynasty
Tribute HD
V30
V35 ThinQ
V40 ThinQ
Wine LTE
Zone 4

Motorola

moto e4
moto g5s plus
moto g6
moto g7 power
moto X2
moto X4
razr

Nokia

1
2
3
5
6
8
9 PureView
216
230
150 Dual SIM
3310 Dual SIM
7 plus
8 Sirocco
8110 4G

OnePlus
Samsung

Galaxy A3
Galaxy A3 (2016)
Galaxy A3 (2017)
Galaxy A5
Galaxy A5 (2016)
Galaxy A5 (2017)
Galaxy A6
Galaxy A6+
Galaxy A7 (2016)
Galaxy A8+
Galaxy A8 (2018)
Galaxy A8+ (2018)
Galaxy A10
Galaxy A10e
Galaxy A10s
Galaxy A11
Galaxy A20
Galaxy A20e
Galaxy A30
Galaxy A40
Galaxy A50
Galaxy A50s
Galaxy AMP 2
Galaxy AMP Prime
Galaxy AMP Prime 2
Galaxy C5
Galaxy E5
Galaxy Express 3
Galaxy Express Prime 2
Galaxy Grand Max
Galaxy J1
Galaxy J1 (2016)
Galaxy J2
Galaxy J2 (2016)
Galaxy J2 (2017)
Galaxy J3 (2016)
Galaxy J3 (2017) International
Galaxy J3 Emerge
Galaxy J3 Prime
Galaxy J3 V
Galaxy J5
Galaxy J5 (2016)
Galaxy J5 (2017)
Galaxy J7 (2016)
Galaxy J7 (2017)
Galaxy J7 Perx
Galaxy J7 Prime
Galaxy J7 Prime 2
Galaxy Luna
Galaxy Note 8
Galaxy Note Fan Edition
Galaxy Note 10
Galaxy Note20
Galaxy On NXT
Galaxy On5
Galaxy On7 Prime
Galaxy On8
Galaxy S5
Galaxy S5 Neo
Galaxy S6
Galaxy S6 Active
Galaxy S6 Edge
Galaxy S6 Edge+
Galaxy S7
Galaxy S7 Active
Galaxy S7 Edge
Galaxy S8+
Galaxy S9
Galaxy S9+
Galaxy S10
Galaxy S10+
Galaxy S10e
Galaxy S20
Galaxy S20+
Galaxy S20 Ultra 5G
Galaxy V Plus
Galaxy Xcover 3
Galaxy Xcover 4
W2017
Z1
Z2
Z3
Z4

Sony

Xperia L1
Xperia X
Xperia X Compact
Xperia X Performance
Xperia XA
Xperia XA1
Xperia XA1 Plus
Xperia XA2
Xperia XZ
Xperia XZ1
Xperia XZ1 Compact
Xperia XZ2
Xperia XZ2 Compact
Xperia XZ3
Xperia XZs
Xperia Z3
Xperia Z3+
Xperia Z5
Xperia Z5 Compact

Xiaomi

Mi 9
Mi 9 Explorer
Mi Mix 2S
Mi Mix 3

ZTE
Whats Included
RAP-274-1-UN7U
Optional Tether
Glue Tube for Rubber Caps
Flat Rubber Spacer
Angled Rubber Spacer
3.06" Rubber Pad
7" Cable Ties
Leave a review