Cellink Neo 9+ Smart Battery for Extended Dash Cam Camera Parking Mode Operation
CELLINK NEO 9+
The Ultimate Supplementary Dash Cam Power Source
There are no reviews for this product.
Product Details
The largest capacity battery pack in the EGEN Cellink range, the Cellink NEO 9+ is specially designed to provide independent power to dash
cam devices, delivering extended Parking Mode operation and increased recording time, without ever having to draw power from the vehicle's battery. NEO 9+ charges when the vehicle is running and provides continuous 12V power when the ignition is switched-off and the vehicle is unattended, for example when parked overnight, allowing a dash cam to continue recording in Parking Mode for extended periods of time.
The NEO 9+ is hardwired to the vehicle's electrical system for super-fast 50 minute charging. It is capable of powering a standard single channel dash cam for over 68 hours of continuous recording (dash cam model dependant) or several days of periodic recording if the dash cam is set to trigger by motion or impact only.
The NEO 9+ is built to last and is manufactured using high quality anodised aluminium and powered by state-of-the-art LiFePO4 (Lithium Iron Phosphate) battery technology, developed to withstand extreme temperatures, go through more charge cycles, and be kinder to the environment than a traditional Lithium-ion battery.
HARDWIRE INSTALLATION
NEO 9+ is hardwired out-of-sight in the glovebox or boot, and charges to capacity in only 50 minutes. The NEO 9+ package includes all cabling hardware necessary for a hardwired installation.
KEY FEATURES
Powers a dash cam in Parking Mode without using vehicle's battery
Extended operation - 68hrs of constant recording (dash cam dependant)
50 mins charge time when hardwired
5V USB output - charge accessories such such as smartphones and Wi-Fi hotspots
Battery Manager App for iOS & Android
Expandable - add Cellink EXT 7 expansion batteries to increase capacity
Compatible with a range of brands inc. BlackVue, Nextbase, Garmin, Thinkware and MIO
Safe and dependable LiFePO4 (Lithium Iron Phosphate) technology
Specification
SPECIFICATIONS
Battery Cell Type :LiFePo4 (Lithium Iron Phosphate)
Colour / Size / Weight :Black / 157mm (W) x 244mm (L) x 39.5mm(H) / 2.0kg
Input Voltage / Current : - Hardwired: 12V – 17V / 11A (max) - Vehicle's battery: 12V – 17V / 15A (max) 
Charging Voltage / Current : - Hardwired: DC14.2V / 8.5A (max)- Vehicle's battery: DC14.2V – 13A (max)
Charging Time : Hardwired: 8.5A Approx. 70 mins Vehicle's battery: 13A Approx. 50 mins
Hours of Use :Up to 68 hours (based on a single dash cam that consumes 2.4Wh)
Capacity :12.8V / 9,000mAh / 115.2Wh
Output Voltage / Current :Dashcam port: 11V – 14.2V / 2A (max) - USB port: DC 5V / 2A (max)
Operating Temperature: Charging Temperature: 0° − 45°C (32° − 113°F)
Discharging Temperature: -10° − 60°C (14°F − 140°F)
Storage Temperature: 10° − 35°C (-14°F − 95°F)
High Temperature Cut-Off : Approx. 80°C (176°F)
Whats Included
NEO 9+
Vehicle Hardwire Cable
Vehicle Power Cable
Output Cable for Dash Cam
Fuse Tap Kit (3 Types)
Velcro Strips (2 included)
User Manual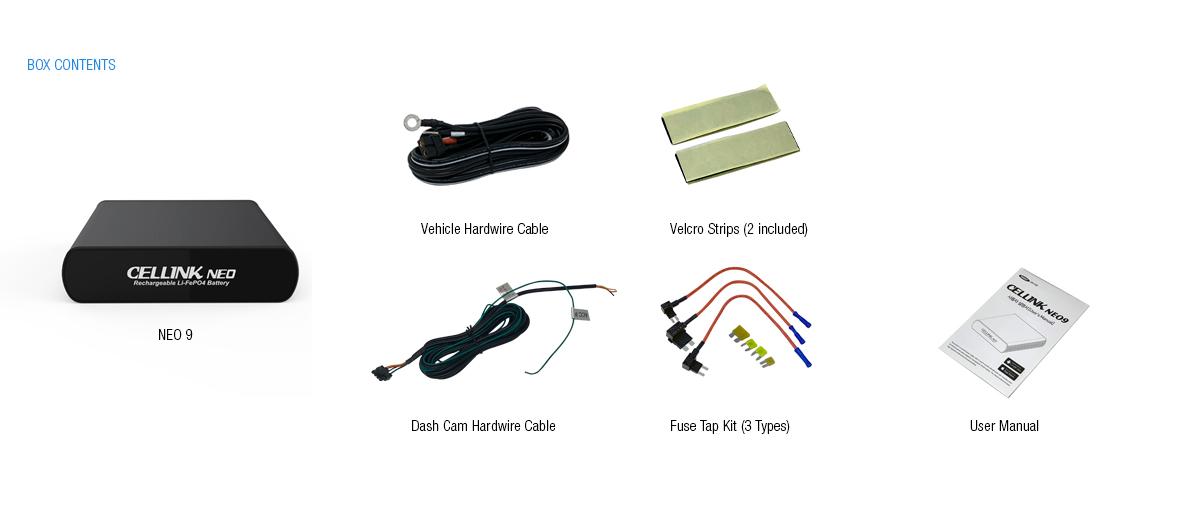 COMPATIBILITY
Cellink NEO batteries are acclaimed by professionals for their reliability and are compatible with a wide variety of dash cam brands including Nextbase, BlackVue, Garmin, Thinkware and MIO.
Leave a review