Cardo Scala JBL 45mm Audio Speaker Upgrade Set for Freecom, Packtalk Bold & Slim
Cardo Scala JBL 45mm Audio Speaker Upgrade Set for Freecom, Packtalk Bold & Slim
45mm AUDIO SET
Upgrade to the ultimate sound experience with 45mm speakers set and matching software
RRP: £89.99
£0.00
£84.99
SAVE 5.56%
IN STOCK
Earn

0

reward points
16434
There are no reviews for this product.
Product Details
The science of sound
Founded more than 70 years ago JBL has been a magnet for audiophiles of every generation. Over months, JBL acousticians, mechanical experts and software engineers have modified and optimized all audio elements of Cardo's intercom systems to deliver a whole new 45 mm set of the best sound ever in a motorcycle communication system.
The best fit
Achieving good audio quality inside a motorcycle helmet is demanding. The wind, the road, the engine and the type of helmet, all affect the frequencies you hear. With that in mind, these 45 mm speakers combine the sound only a large diameter driver can provide, with a narrow, 42 mm base that can fit almost every modern helmet.
Join the sound revolution
With a standard 3.5mm jack, these speakers fit practically any communicator on the market, no matter what brand. Owners of Cardo FREECOM and PACKTALK series will enjoy extra boost with new JBL sound processor and firmware. Not a FREECOM or PACKTALK owner? No worries: this powerful hardware will still drive your headset audio performance to new heights.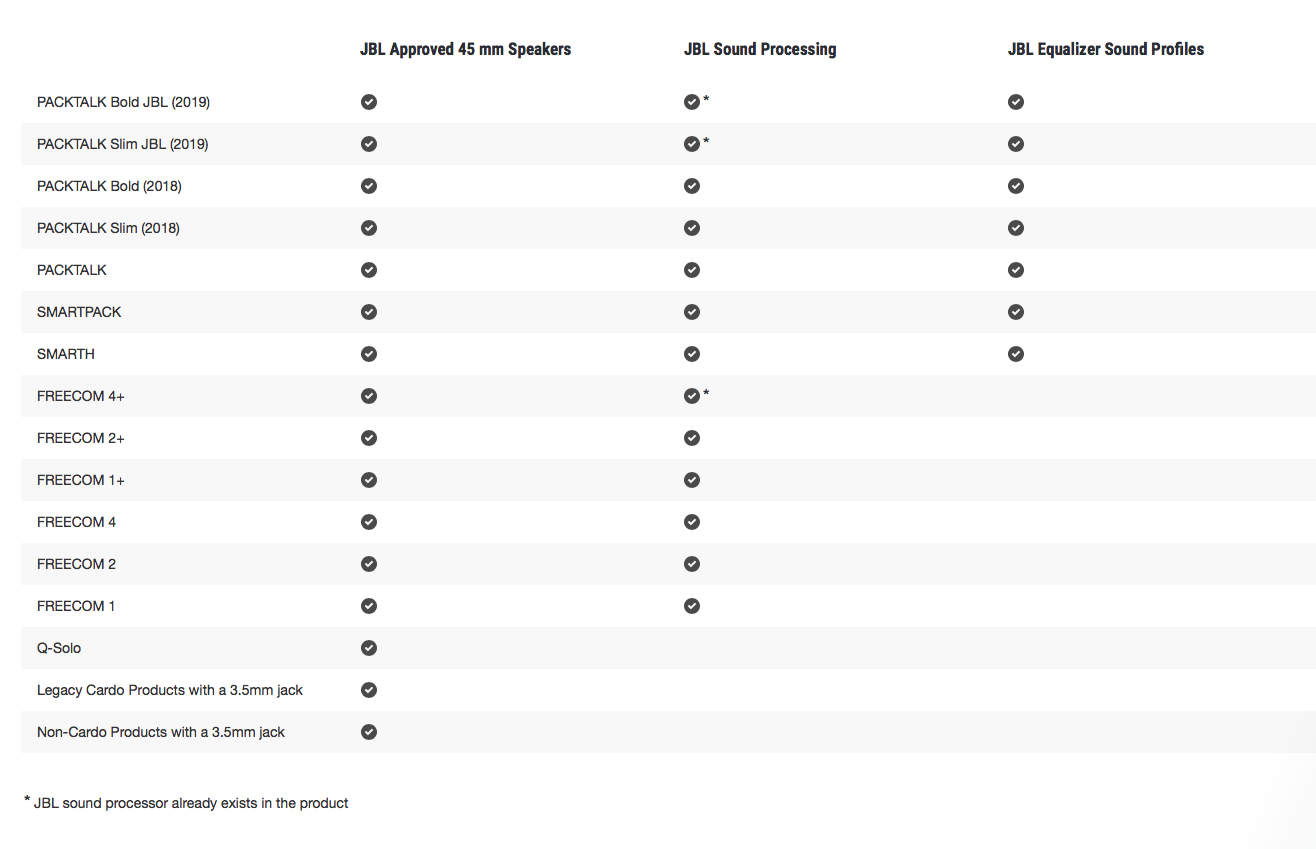 Specification
Whats Included
45MM AUDIO SET
SQUARE VELCRO PADS
SPEAKER REPOSITIONING PADS (BOOSTERS)
REPLACEABLE COVERS
ACTIVATION GUIDE
How do I activate my 45mm Audio set?
Don't have our "Cardo Connect" app yet? Now would be a good time to Download it from the "Google Play" or "App Store," Get ready to elevate your sound experience!
The app feels lonely, time to pair your mobile phone to the Cardo device so they could talk to each other.
Let the activation begin: Enter the "Cardo Connect" app and go to the "settings" screen by pressing the icon on the upper left side of the home screen.
In the "settings" screen you will see the "Audio profile" with a lock on its right side: time to pick that lock.
Press the "audio profiles" where you will find the "Scan QR code" button. You are one step away from upgrading your sound.
Once you Press "Scan QR code," you will be able to scan the QR code, printed inside your audio kit package.
If you can't scan the QR code for some reason, you can press "enter the key manually." You can then enter the code printed below the QR code.
Congratulations, you now have the best in class audio experience — time to show it off on social media.
Leave a review