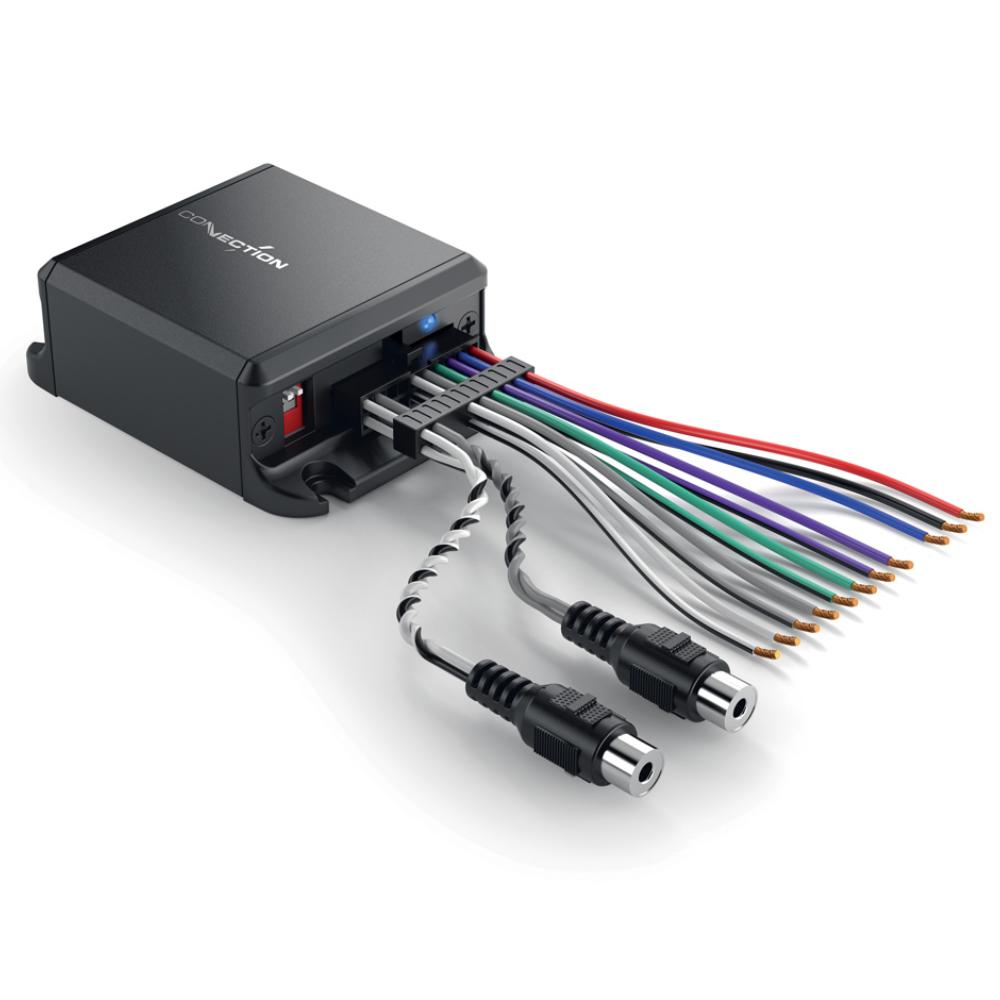 2 YEAR WARRANTY
Connection Sonus SLI 2.2 Channel Speaker Level to RCA Line Out Converter
Connection Sonus SLI 2.2 Channel Speaker Level to RCA Line Out Converter
SLI 2.2 
HIGH TO LOW LEVEL CONVERSION INTERFACE FOR OEM-INTEGRATION
Connection by Audison
There are no reviews for this product.
Product Information
EXCELLENT AUDIO QUALITY
Conversion achieved thanks to high-quality transformers that preserve the entire bandwidth and to the STOP NOISE technology offering total rejection of electrical interference as transformers provide a galvanic separation between source and amplifier.
EASY TO INSTALL
Robust and compact shielded aluminium chassis with connection diagram on the bottom and connection panel on one side that facilitates installation even in the rear dashboard.
SINGLE CONNECTOR
Wiring labelled and terminated with Molex* connector featuring a tear-proof plastic strip, for a long-lasting and easy connection.
TOTAL OEM INTEGRATION
DSR (Double Step-Down Ratio)
High-Power (8:1) and Low-Power (4:1) step down conversion ratio selectable via DIP switch independently for each input, front and rear, for a correct interface with both traditional OEM sources (Low-Power) or OEM amplifiers featuring high-voltage outputs (High-Power) up to 35V RMS.
USS (UNIVERSAL SPEAKERS SIMULATOR)
It simulates the load of the speakers on the 4 input channels (Front and Rear), for a complete compatibility of the interface with the OEM sources that detect the original speaker load (impedance) connected to their outputs.
ARTTM (AUTOMATIC REMOTE TURN-ON)**
Function compatible with all OEM sources, including the latest generation ones, which creates a 12 V output for the remote control of the amplifier when the SLI is powered.
*Molex is a registered trademark owned by Molex, LLC in the United States
** In countries where the legislation on electromagnetic compatibility is not mandatory under ECE / UN Regulation no. 10/5
Specification
Level conversion operated by Audiophile Grade isolation transformers.
ARTTM Automatic Remote Turn-on.
High noise rejection.
Chrome-plated RCA's.
Durable die-cast aluminium chassis.
Protective translucent black polycarbonate cover.
What's Included
Leave a review